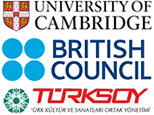 -
Dr Angelika Jung, Director, Galerie Mani, Weimar, Germany
I am writing to express my deep gratitude to Cambridge Central Asia Forum for all the hard work involved in organizing the international symposium on Popular Culture in Turkic Asia and Afghanistan: Performance and Belief. Like many other participants I was really impressed with the excellent program of the Symposium, along with the friendly and open-minded atmosphere created there. The concert-workshop at Jesus College was a great success in presenting different genres of traditional music from Kazakhstan, Turkey, Afghanistan and Azerbaijan. Moreover, I would like to express my delightedness and gratitude for the hospitality provided by Professor Geoffrey Khan and Professor Charles Melville from the Faculty of Asian and Middle Eastern Studies, specifically for that wonderful closing ceremony reception in Pembroke College. Thank you again for including me in the symposium, and for creating a productive platform for cultural exchange in which strongly held opinions about important issues in contemporary popular Turkic culture could be shared openly, honestly and respectfully. It was an honour and privilege to be part of this unprecedented meeting of scholars and musician from different parts of the world.
- Professor Dr Janos Sipos, Hungarian Academy of Science, Budapest
First of all I would like to say thank you to organizers of our Symposium. Also, my gratitude extends to the University of Cambridge, the British Council, and Turksoy - who sponsored our event! It was very good idea to bring musicians to perform at our concerts. A conference without music is like a pond without water! During our Symposium we enjoyed music from different parts of the Turkic speaking world, it was also interesting to meet our colleagues from Cambridge University, both ethnomusicologists and non-ethnomusicologists, who could advise in the general area of study. I think small symposiums, like the one we had in Cambridge, are usually more productive than large ones. Here we had a chance to spend the whole day together, listening to papers, exchanging ideas, having a meal together, enjoying concerts, etc.
- Dr Alla Bayramova, Director of The State Museum of Musical Culture of Azerbaijan, Associate Professor of Western University, Baku, Azerbaijan
The topic of the Symposium; Popular Culture in Turkic Asia and Afghanistan: Performance and Belief, has been chosen very timely as it touches upon little known aspects of our huge geographic region. Bringing together researchers from East and West to the University of Cambridge was very important for enriching Western scholarship in Turkic studies and vice versa. Thus, the Symposium has become a step in bridging the gap and has served for the mutual benefits. I express my deepest gratitude to all organizers of this event and find their activities in introducing Turkic studies into the circle of scientific interests of University of Cambridge very important and successful.
- Tom Solomon Professor of Music Grieg Academy, Department of Music, University of Bergen , Norway
Following the conference theme "Popular Culture in Turkic Asia and Afghanistan: Performance and Belief" many of the papers focused on musical articulations of the intersection between popular culture and religion, including mass-mediated musical expressions of both majority and minority religious groups. Examples included papers discussing diverse musical forms such as music videos from Turkey and rap music from southern Siberia. Other papers focused on contemporary appropriations and re-significations of traditional music, such as modern interpretations of traditional Azerbaijani music, the use of Sufi devotional ritual as music therapy for troubled teenagers in Kazakhstan, and a Kazakh musician's use of a traditional instrument in new popular musical arrangements.
- Professor Saida Yelemanova, Kazakh National University of Arts, Astana
To me the main purpose of Symposium was a collective "brainstorm" of such an important issue to ethnomusicology as popular culture. I think this was achieved in two ways; to mark the study of the subject and to stimulate the most appropriate approaches to it. The organizers managed to bring to this forum the most serious and interesting of authors. We learned that there is a positive process of increasing knowledge about the musical culture of the Turkic Asia in a joint attempt to research it from the "outside" and "inside". Because most of Turkic Asia is the post-Soviet "mainland" (which has become open in recent years) I think that this symposium is a significant milestone in the development of contemporary ethnomusicology of the East and West.
- Dr Giovanni De Zorzi, University Ca Foscari of Venice, Italy
I was delighted to participate in the third Symposium of the ICTM Study group on the Music of the Turkic Speaking World, which was centred on the subject of Popular Culture in Turkic Asia and Afghanistan: Performance and Belief. I think it is very important and stimulating to meet scholars, colleagues and friends from all over the world who are working on the different aspects of these beautiful musical traditions. It was also efficient for my students: on the fourth of December (the day after my return from the Symposium) I delivered a lecture in the University Ca Foscari of Venice on Musical Traditions of Islamic Area, with our topic being the Uzbek Tajik Shash Maqom. As I was equipped with all new insights from our Symposium, the lecture turned into productive discussion with lots of questions and insights.
- Aziza Sadykova, composer, Uzbekistan and Germany
Invitation to participate in the 3d ICTM conference on Popular Culture in Turkic Asia provided me with great opportunity to meet leading scholars in the field of Turkic speaking world studies. The lectures on Azeri Rap, Sufi Music, Zikr, Bukharan Shashmakom and Contemporary music in Turkey have been of a real interest for me as a performer and composer. The conference organizers have ensured that anyone attending the conference, held at the University of Cambridge, had a good opportunity to relate to some portion of the events and lectures on offer. In addition (and more importantly perhaps) there was possibility to meet and talk with almost everyone who had attended there (performers, musicians and academic scholars), something which is all too rare at most academic conferences. The inclusion of an artist exhibition, film screenings, and various impromptu events (both musical and cinematic) were guaranteed to deliver insight into that rich and colorful world of Afghan, Azeri, Uzbek,Turkish and Kazakh music today.