On Friday, 4th December, Dr Christine van Ruymbeke will be speaking at an online webinar organised by the Yale Macmillan Centre Program for Persian Studies.
Yale Macmillan Centre Program in Persian Studies online webinar. Register to attend.
---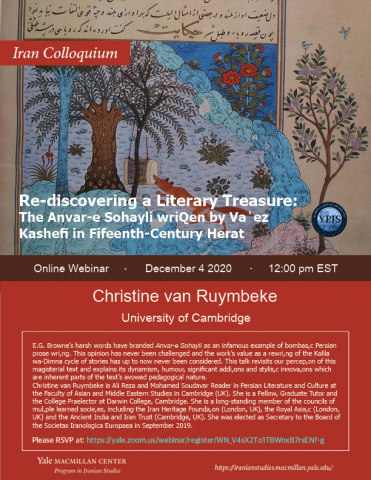 E.G. Browne's harsh words have branded Anvar-e Sohayli as an infamous example of bombastic Persian prose writing. This opinion has never been challenged and the work's value as a rewriting of the Kalila wa-Dimna cycle of stories has up to now never been considered. This talk revisits our perception of this magisterial text and explains its dynamism, humour, significant additions and stylistic innovations which are inherent parts of the text's avowed pedagogical nature.
Dr Christine van Ruymbeke is Ali Reza and Mohamed Soudavar Reader in Persian Literature and Culture at the Faculty of Asian and Middle Eastern Studies in Cambridge (UK). She is a Fellow, Graduate Tutor and the College Praelector at Darwin College, Cambridge. She is a long-standing member of the councils of multiple learned societies, including the Iran Heritage Foundation (London, UK), the Royal Asiatic (London, UK) and the Ancient India and Iran Trust (Cambridge, UK). She was elected as Secretary to the Board of the Societas Iranologica Europaea in September 2019.
She obtained her PhD in Persian studies at the Université Libre de Bruxelles (Belgium) and taught for several years at her home university before moving to Cambridge in 2002. She works on classical (medieval and pre-modern) Persian literature, with a special focus on the masnavis of Nezami of Ganja (12th c. AD) and on the Persian versions of the Kalila and Dimna fables (12th- 16th c. AD). She has published extensively on these and other topics related to Persian literature.
Her new monograph, Kashefi's Anvar-e Sohayli: Rewriting Kalila and Dimna in Timurid Herat, was published by Brill (Leiden). A previous book, Science and Poetry in Medieval Persia: The Botany of Nizami's Khamsa, received the World-prize for the Book of the Year of the Islamic Republic of Iran, in February 2009.