Event date:
Monday, 12 November, 2018 -

17:00

to

19:00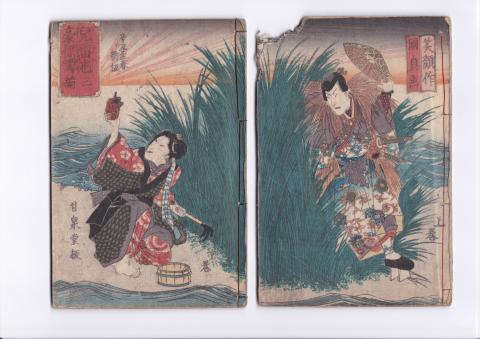 Japanese early-modern playful literature (gesaku) and censorship
江戸の戯作と出版統制
From the second half of the eighteenth century to the nineteenth century in Edo many playful novels were produced. They are known under the label of gesaku ('playful literature') and include a variety of genres: sharebon ('fashionable books' dealing with the pleasure quarters), kibyōshi ('yellow-cover picturebooks'), gōkan ('bound picturebooks'), and ninjōbon ('sentimental fiction'). These were often the subject of harsh control on the ground of the regulations around the publishing industry that had been issued in 1722. We talk about a form of censorship; one that regulated the publication of erotic and sexually-explicit books as well as prohibited works dealing with the shogun Tokugawa Ieyasu and the shogunate.
At the time of the Kansei Reforms (1787-1793) and of the Tenpō Reforms (1841-1843) the government strengthened the restrictions on the publication of playful novels, following its policy of enforcing the sumptuary laws and the rules around public morals. In 1804 a regulation banning the use of names and crests of any samurai who lived after the Tenshō period (1573-1592) was issued. This meant that there were severe restrictions on the temporal setting that could be chosen for gesaku novels. This paper will discuss what ideas were devised by gesaku authors in choosing contents and expressions that would avoid infringing on the existing regulations. This could be viewed as a form of surrender to the government, and yet I will argue differently. The fact that gesaku continued to be published, albeit amidst forms of self-control, speaks of the extent of its demand and allows us to gauge the passion of its publishers and authors.
18世紀後半から19世紀の江戸では洒落本・黄表紙・合巻・人情本などの戯作小説が出版されていたが、それらはたびたび、1722年に出された出版条目(異説の禁止、好色本の絶版、徳川家康と徳川将軍家に関する著作の禁止などを命じる法令)を根拠とする取り締まりの対象となった。寛政の改革(1787-1793)と天保の改革(1841-1843)の折には、幕府がうちだした奢侈禁止・風紀粛正の方針にそって戯作小説への取り締まりも強化された。1804年には天正期(1573-1592)頃以降の武者の名前や紋所を作中に記すことを禁じる法令が出され、小説の作中における時代設定が制約されるにいたった。厳しい取り締まりのもとで、戯作小説の作者たちは規制に抵触しない内容や表現を工夫せざるをえなかった。それを幕府への迎合と言うこともできるが、むしろ自主規制をしながらも戯作の出版が継続された点に、戯作の需要の高さと、版元と作者の情熱を見いだすべきだろう。
Prof Yukiko Satō
佐藤至子
Prof Satō Yukiko is Associate Professor at the University of Tokyo (Graduate School of Humanities and Sociology, Faculty of Letters). She was awarded her PhD at the same University. Her research focusses on novels and performative arts from the late early-modern period into the Meiji era. More recently she has been working on the production of the modern rakugo writer and performer San'yūtei Enchō. She has also clarified how censorship hit the playful fictional prose known under the label of gesaku.
Major publications include: Edo no e-iri shōsetsu: gōkan no sekai ('The illustrated novels of early-modern Japan: the world of gōkan'; Perikansha, 2011); Santō Kyōden: kokkei share daiichi no sakusha ('Santō Kyōden: the number-one author in humour and puns'; Minerva shobō, 2009); Edo no shuppan tōsei: dan'atsu ni honrō sareta gesakucha tachi ('Restrictions on publishing in Edo: The gesaku authors buffeted by coercion'; Yoshikawa Kōbunkan, 2017).
東京大学大学院人文社会系研究科准教授。東京大学で博士号(文学)を取得。近世後期から明治前期の小説と芸能を主な研究対象としている。近年は、幕末・明治に活躍した落語家三遊亭円朝の作品研究や、戯作小説に対する出版統制の実態解明に力を注いでいる。
主な著書に、『江戸の絵入小説―合巻の世界―』(ぺりかん社、2011)、『山東京伝―滑稽洒落第一の作者―』(ミネルヴァ書房、2009)、『江戸の出版統制―弾圧に翻弄された戯作者たち―』(吉川弘文館、2017)がある。