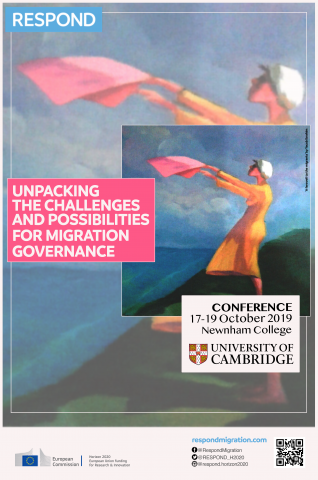 Project Overview
RESPOND (2017-2020) is a comprehensive study of migration governance in the wake of the 2015 Refugee Crisis. This project is funded by the EC Horizon 2020 programme and coordinated by Uppsala University. The Consortium consists of 14 partners from 11 countries, including Iraq, Lebanon and Turkey; involves 7 academic disciplines in 11 universities. Read more about the project here and on the Project Website.
RESPOND will adhere to a refugee-centered approach throughout, aiming to: 
bring insights to citizenship, gender and integration studies
ensure direct benefit to refugee communities
provide a basis for more effective policy development 
RESPOND aims to enhance the governance capacity and policy coherence of the EU, its member states and neighbours. It will: 
probe policy-making processes and policy (in)coherence through comparative research in source, transit and destination countries
analyze migration governance across macro (transnational, national), meso (sub-national/local) and micro levels (refugees/migrants)
apply an innovative research methodology utilizing legal and policy analysis, comparative historical analysis, political claims analysis, socio-economic and cultural analysis, longitudinal survey analysis, interview based analysis, and photovoice techniques 
Focal points include: 
border management and security
international refugee protection
reception policies
integration policies
conflicting Europeanization and externalization 
These themes are used to examine multi-level governance while tackling the troubling question of the role of forced migration in precipitating increasing disorder in Europe. 
In contrast to much research undertaken on governance processes at a single level of analysis, RESPOND's multilevel, multi-method approach: 
shows the co-constitutive relationship between policy and practice among actors at all three levels
highlights the understudied role of meso-level officials
shines a light on the activities of non-governmental actors in the face of policy vacuums 
Ultimately, RESPOND will show which migration governance policies really work and how migrants and officials are making-do in the too-frequent absence of coherent policies.
AMES Research Input
Dr Naures Atto (PI) and Catherine Hirst will look further into the experiences of vulnerable refugee groups, particularly Assyrians and Yazidis from Iraq and Syria who have found refuge in Sweden, Germany and the UK. The study will have a strong qualitative approach. They will: 
conduct fieldwork among the specified refugee populations and interview individual refugees in order to learn how they negotiate their position in a new society and how they respond/interact with policies aiming at theirintegration at legal-political, socio-economic, and cultural levels
study implementation of integration policies, integration practices at local/subnational level in order to understand the role of local actors in shaping and re-constructing policies
prepare a country report on the legal and policy framework of migration governance in the UK with the aim to contextualize the experiences of refugees in the UK
this report will also be used in a comparative study with reports produced about migration governance in other partner countries.
In the context of the study, the Cambridge team will:
organize an international conference (see Call for Papers)
coordinate a documentary and photovoice project about the same theme
organize and coordinate an art exhibition of art works produced by artists and members of the refugee populations studies