Kendra Evans, Coordinator for International Relations, JET Programme​
Graduated 2016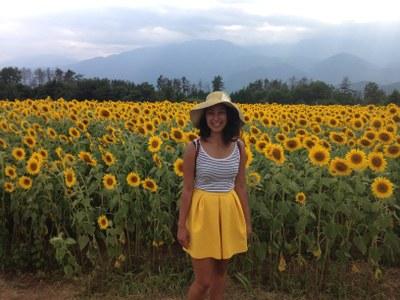 A desire to go back to Japan after my degree
When I came back from my year abroad study in Kyoto and returned to study at Cambridge for my final year, I realized two things: that I had learnt and consolidated so much from my time in Japan, and that if I wanted to reach a level where I could call myself fluent, I would need to go back again. I also had not been able to see, do and experience all that Japan had to offer. While I was interested in continuing in academia, I was also keen to work beforehand, and put my skills to use.
The JET Programme: Coordinator for International Relations
When looking through the Camcareers website, I found a job listing for the JET Program, a well-known program which sends English speakers to work in Japanese schools as Assistant Language Teachers. However, this sounded very different from teaching English. With Japanese skills as a must, this job would be based in the international and tourism departments of Japanese local governments, and would involve translation, interpreting, event planning, assisting foreign visitors, and much more. The role is known as Coordinator for International Relations, and it sounded ideal for me. I decided to apply and see if I could get a place. The JET Program is notoriously competitive, and CIRs only make up around 5% of JET participants every year. The criteria involve Japanese ability around JLPT N2 level, a good honours degree, fair knowledge and appreciation for your own country and culture, and a desire to help with internationalization while living and working in Japan. You are able to specify your preferences for location, but it is very unlikely you will actually be placed there, particularly as a CIR when there are so few positions available.
Applying to the JET Programme
First applicants apply online, and then send four copies of their form and other documents to the JET Office – in the end my forms totaled around eighty sheets of paper! After this is the interview stage. For CIRs, the interview takes place almost entirely in Japanese, and includes reading comprehension. The questions are all very practical, and aim to see how you would approach the role you were given. Depending on your location and your work environment, job requirements for CIRs can be drastically different. Some people spend a lot of time on school visits and events; some barely leave the office for translation work. Some will have to interpret for prestigious political events; some might never have to interpret at all. Some will have a very strict job description, and some can create their own work and projects, to be continued by the CIRs who follow them. As far as the interview questions and my experience go, although it is very important to have a concrete idea of what you want to bring to the role, JET looks for versatility and enthusiasm most of all from its participants.
My work in the Yamanashi Prefectural Office
In the end, I was accepted onto the JET Programme as a CIR, and placed in the Global Exchange and Tourism Department of the Yamanashi Prefectural Office, in the capital city of Kofu. When I told my Japanese friend, she laughed and told me it was so rural most people haven't even heard of it. Kofu City is definitely a quieter city than most. It is located in a basin, surrounded by mountains almost 3,000 ft high, often rising over above the clouds. And on a good day, in the distance, Mt Fuji rises above them all. My work mostly involves translation work: emails and letters, pages of the website, promotional information for the prefecture. People from across the Prefectural Office will bring work for translation, and the variation keeps things interesting. There are also quite a few interpreting jobs, for when visitors from outside Japan come on business or official trips. My first interpreting job took place over three days, for employees of a food company in Singapore, who visited many small businesses and farms across the prefecture. Not only was it a fun challenge, I was also able to try many of the products and see the sights of Yamanashi along with the visitors. I also help update the blog and go on school visits, telling students all about the UK.
The charm of Yamanashi Prefecture
On the weekends, there is plenty to see and do – and working in the tourism office, I quickly learnt about what Yamanashi has to offer. All the mountains in the prefecture mean it is very sparsely populated, but hiking is a very popular pastime, and it doesn't take too much climbing (or long on a train) to reach a breathtaking view. Agriculture is also a huge part of Yamanashi's culture – it is known for its fruit production, and some of the first wineries in Japan were opened in Yamanashi. I am a big fan of local produce and living simply, but I doubt I would have been able to try this in Japan if I had been placed in a more urban location.
How studying at Cambridge made all this possible
If it wasn't for Cambridge, I'm not sure I would have been able to take on this role. I might not even have known about the CIR position - I signed up for the Careers Service, and discovered this programme while looking for positions related to Japan. However, Cambridge also prepared me in many ways I didn't even realise until I began the job. Cambridge has a strong language focus during the first year, which many students find challenging – but it secures the foundations of the language early on in your studies, building on top of them for easier understanding and consolidation in second year. I set out to Kyoto in my third year with a good grasp of the language – enough that I could navigate, but still at a level where I could take full advantage of immersion. I cannot stress the importance of the year abroad enough. If I had not lived in Japan before working as a CIR, I would have found it incredibly difficult. The year abroad doesn't just let you use and learn the language in a real setting. By living in Japan, you learn first hand about Japanese life, its culture and the people. I had so many opportunities, sitting the JLPT N2 and working several part-time jobs, which gave me both the hard qualifications for my JET application and the experience of working in Japan. And separate from the course itself, my teachers at Cambridge were all extremely helpful, supportive and considerate, particularly when it came to my application and my interview. Dr Kawabata, the Senior Language Teaching Officer in Japanese took time out of her schedule to do practice interviews with me, which was probably the best preparation I could have had. I am incredibly grateful that I was able to study on such an excellent course, with such fantastic teachers.
A few last remarks
For people who want to work in Japan after graduation, and who would like a challenge, I would definitely recommend applying for JET as a CIR. The program is well regarded, and every person's experience is unique. Opportunities to go and work in Japan as a foreigner straight out of university are few, particularly in this kind of role. The experience is very valuable, and I have learnt so much in a very short amount of time. If you are interested, definitely apply and see how it goes – and come and visit Yamanashi Prefecture if you can!