Hattie Jones, Trainee Solicitor​
Graduated 2011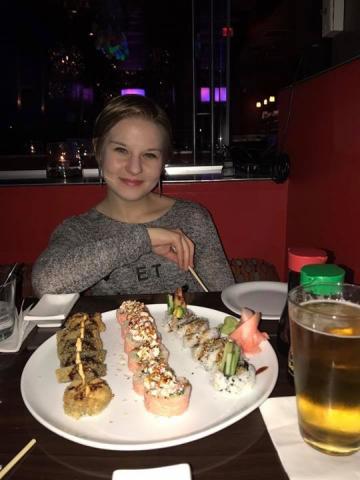 What I am currently doing
I am currently training as a solicitor at the Magic Circle law firm Clifford Chance. We work mostly with large banks and corporates and practise a range of law, from finance to litigation. I am due to complete my training period in March 2018, at which time I will choose a department to join as an associate.
How I got there
Corporate law may not seem the natural place to end up having done an undergraduate degree in Japanese, but I had a long-standing and parallel interest in law, crime and sociology throughout my secondary and tertiary education. My particular interest was in crime and legal sociology in the Japanese context – what factors explained Japan's comparatively low crime rates amongst developed nations; what informed the particular ways in which crime was expressed in Japan; and how Japanese law interacted with social and cultural norms to shape the ways in which deviance was performed and regulated. While on my year abroad at Waseda University I wrote a comparative essay on youth crime in the UK and Japan, and in the final year of my degree course I performed a speech about so-called "toorima" incidents at the UK Japanese Speech Contest for University Students.
After graduating, I looked at studying in Japan but was unable to locate any criminology courses. I therefore turned my attention stateside, with a long-term ambition of getting a general criminological education there before returning to Japan to continue my studies at a more advanced level. I was accepted onto the PhD Criminology and Criminal Justice programme at the University of Maryland but ended up leaving after two years once I completed my M.A., as I had realized that I did not want to continue in academia indefinitely, and that my studies there did not realistically afford me the contact with Japanese language and culture that I found myself missing.
When I decided to leave academic life, I applied to a range of jobs – all were based in London, but all had to meet a single criterion: that they offered the chance to work in Japan. Law firms were attractive since many had Tokyo offices to which it was relatively easy to be seconded either temporarily or permanently, and this also meshed well with my interest in law. In particular, Clifford Chance stood out as a firm which actively encouraged its employees to travel abroad, and which seemed especially to value language and cultural skills in its global workforce. As part of my training period at Clifford Chance, I will be going out to work in the Tokyo office from March to September 2017, with the potential for longer secondments further down the line should I wish to return.
What I appreciated about my time in Cambridge
What I think was particularly helpful about the education I received at Cambridge is that it not only gave me the opportunity to study the Japanese language (which I was happy to do in my own time, to be honest!) but it nurtured and encouraged my interest in other aspects of Japan. I had the opportunity in studying Japanese sociology to explore my interests in crime and law, which have been so influential in shaping my career to date. Separately, it never fails to make Japanese people laugh with surprise when I recite the opening paragraph of the Houjouki!
More broadly, my years at Cambridge were an unparalleled opportunity to explore new interests and try my hand at various projects without the time constraints or pressure to achieve which increasingly dominate life in higher education and the workplace. While at Cambridge I was involved to a greater or lesser degree in theatre, magazine and newspaper editing, article writing, acting on a society board, and more. In particular, the collegiate system at Cambridge allows for myriad societies and groups, with plenty of roles for everyone to take on. It is an excellent way to build confidence and find and develop new interests, which may be peripheral or unconnected to your studies but which may yet open up new avenues for your academic and career development going forward.
Advice to young people
The key thing I have learnt is not to get too fixated on one career, one job, one course or one scholarship. It may seem that there is only the one opportunity for you to get what you want (or to go where you want) but reality is rarely that simple. If something does not work out, then there are likely a whole host of other ways of getting to the same place, even if some of those may take a bit longer, or be a little less direct. I would never have thought, when I was at university, that my current job would allow me the opportunity to use my Japanese or live in Japan, but it is one of many careers which allow for relocation to and/or contact with Japan. Do not assume that the only way you can go out to Japan or use your Japanese degree is to remain a student, or do a government scheme, or become a translator! Be conscious of how attractive language skills and, perhaps even more, understanding of another culture can make you in this increasingly globalised world. Many of my fellow trainee lawyers also completed language degrees as undergraduates, and we have easily kept up with those who studied law at interviews, during legal training and in day-to-day work. Many professions are open to linguists, and studying a language as interesting, unusual and impressive as Japanese will, if anything, make your application stand out amongst the pack. 
February 2017