Jess Peet, Actor​​
Graduated 2014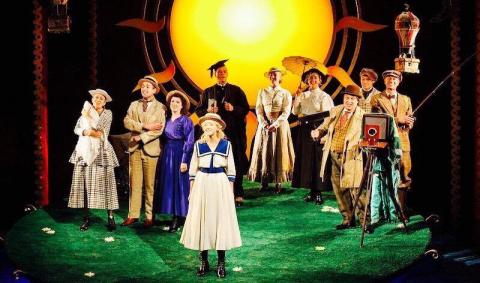 Following two paths
Cambridge provided me with many opportunities to pursue my two major passions, Japanese studies and theatre, and I have been lucky enough to keep up both ever since. I came to Cambridge excited to finally learn Japanese, something I'd been interested in for many years. I was also delighted to realise just how active the university drama scene is; before arriving, I hadn't quite appreciated the scope of opportunities to perform. From the very first term, I rehearsed and performed at the ADC Theatre alongside my academic work. I loved balancing the mental challenge of tackling Japanese from scratch with the physical challenge of long theatre rehearsals and nightly performances.
Studying Japanese
I loved the pace and scope of the Japanese course at Cambridge. It is a challenging programme, but learning the basics of the language so quickly was incredibly rewarding. I was also very pleased to discover the variety of historical / cultural / linguistic modules available to us. Although I had not seriously studied Japanese before applying, a few others in my class had quite significant knowledge of vocabulary and grammar. By the end of the second term, however, we were approaching a similar level. The first two years' language classes revolve heavily around textbook learning, with perhaps fewer opportunities for conversation than at other universities, but I do not think this is a disadvantage. In fact, I was all the more motivated to make Japanese friends in Kyoto and put the extensive grammar and vocabulary I'd studied at home into practice. I was amazed at how much I had actually learned in such a short time; it was incredibly fulfilling to spend whole days and weeks speaking only in Japanese, when two years previously I barely knew a word. Thanks to the fast pace of the first two years' training, students from Cambridge seem to be able to throw themselves into busy and exciting social lives in Japan in a way that students from other courses may not have the confidence to do. I definitely have the Japanese course at Cambridge to thank for some of the best friends and most memorable experiences of my life.
Combining interests
During my year abroad, I had a few opportunities to perform. I sang in public concerts and appeared on local and national television. I also went to see several plays in Japanese. One company in particular, Chiten, inspired me to write about Shakespeare in Japan for my final dissertation. I quickly discovered that this is a well documented area of research, so I narrowed my focus down to the work of one translator/director, Fukuda Tsuneari. The majority of his writing has not been translated into English, so I relied heavily on my relatively new language skills to work through his lengthy, often rambling philosophies. These wandered from drama and Shakespeare through to the meaning of 'modernity' and his perceived need for an uprising in modern Japanese society. He believed that performances of Shakespeare (specifically Hamlet) could catalyse such a revolution. Needless to say, it was quite a challenge to work through his ideas and the process took over a year. I recently found out though that the dissertation won the Ivan Morris Memorial Prize, so perhaps there was some method in the madness!
Japan taking precedence
During my fourth year, unsure about what I wanted to do in the future, I applied to a few MA Musical Theatre programmes. I wasn't successful on my first attempt, and decided instead to return to Japan with the WWOOF scheme, whereby volunteers live and work on rural farms across the country. This would allow me to travel more widely and really get to grips with the language. Before I left for Japan, I applied once more to the MA Musical Theatre programme at the Royal Academy of Music in London. I found out during my trip that I had been successful, and so returned to the UK after 6 months to begin studying Musical Theatre in Autumn 2015. I had the most interesting experiences as a WWOOFer though and would love to go back to Japan with the programme again, to see new places and try my hand at different jobs.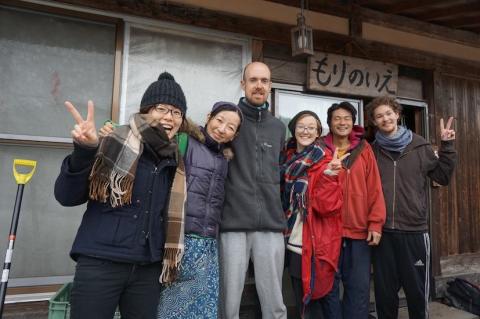 Drama taking over
During my year at the Royal Academy of Music, I didn't have much opportunity to practise Japanese, although I was very grateful to be able to earn some money as a Japanese tutor in the holidays. I threw myself into studying music, drama and dance, and was taken on by an acting agency before graduation. This led to my first job: performing as Alice in Anthony Neilson's Alice's Adventures in Wonderland at the Royal Lyceum in Edinburgh. I've just returned and am now auditioning for future roles. I still work on the side as a Japanese tutor, which is a great way to support life in London.
Looking to the future
Although I am now mainly working as an actress and model, I still relish opportunities to combine my interests. For the past few years I have been working as the drama coach on the Keio-Downing Summer School in Cambridge. 60 Japanese students spend the summer in Downing College, and at the beginning of their stay we work together to help them build confidence and interpersonal skills that will aid them throughout the programme. It's an incredibly rewarding process and I look forward to joining them again this summer!
If I were to give any advice to my kohai (juniors), in drama or in Japanese, I would tell them to follow their passions, however impractical or incongruent they might seem. Instead of aiming for a particular future point or career aspiration and making sacrifices that seem appropriate on the way, see where your unique interests take you and what path they naturally carve out.
Many of the jobs and experiences I've had in the past few years have required a great deal of stamina, diligence, confidence and curiosity. I can say without a doubt that I first developed these strengths whilst studying Japanese at Cambridge, and whilst learning to live alone in Japan. Cambridge is where I learned to work hard, but also where I realised the true rewards and possibilities opened up by doing so.
January 2017