Venue:
Rooms 8 & 9, Faculty of Asian & Middle Eastern Studies
Event date:
Wednesday, 13 November, 2019 -

17:00

to

18:30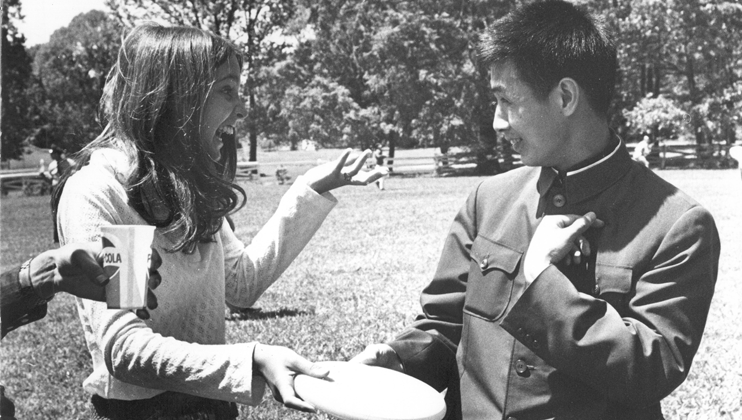 China Research Seminar Series talk given by Peter Millwood, London School of Economics
In 1971, Americans made two historic visits to China. One of those trips was by an American official: Henry Kissinger. The other, earlier visit was by the US amateur ping-pong team. Historians have pored over the minutes of Kissinger and President Richard Nixon's talks with Chinese leaders and shown how these laid the basis of "triangular diplomacy" and strategic collaboration orchestrated by elites. But they have largely overlooked the rich human history of travel and cultural exchange that began with ping-pong diplomacy.
Those encounters reacquainted ordinary Americans and Chinese and reawakened the deep relationship they had enjoyed before China's Communist revolution. The book project that is the basis of this talk looks below Nixon's summit to reveal how China became the largest source of foreign students in the United States, how chinoiserie once again came to enthral American consumers, and how the two countries came to look to each other to define their aspirations for the twenty-first century. I seek to do more than simply trace the origins of the present ties between the American and Chinese people, however. In the talk, I will argue that the American and Chinese people — ping-pong players and scientists, musicians and martial artists, athletes and academics — were transnational diplomats who played a central role in rebuilding the relationship between not only their societies but also their governments.
Pete Millwood is an LSE Fellow in East Asian History at the London School of Economics. His research is on the international and transnational history of the Chinese world during the Cold War. He received his DPhil and MSt in History from St Antony's College, Oxford and his BA in that subject from LSE. Dr Millwood has held postdoctoral and predoctoral fellowships at Oxford, Tsinghua, and Peking universities, and the Library of Congress. His work has appeared, or is forthcoming, in Diplomatic History and the Journal of Contemporary History.