Venue:
Rooms 8 & 9, Faculty of Asian & Middle Eastern Studies
Event date:
Wednesday, 20 November, 2019 -

17:00

to

18:30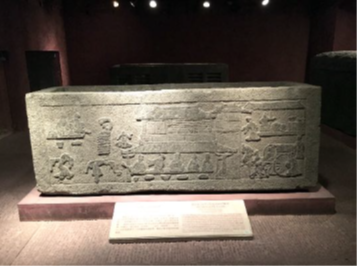 China Research Seminar Series talk given by Hajni Elias, University of Cambridge
Representations of acrobatic performances known as juedixi 角抵戲 or baixi 百戲 feature prominently in Eastern Han dynasty tomb art. The consensus amongst scholars has been that these images were included in the tomb, along with banqueting scenes, to represent enjoyments pursued by the deceased in the afterlife and also signifying wealth, power and pleasure. They have also been studied as the origin of China's spectacular performance arts and traditional Chinese theatre. This paper examines the iconography of these scenes found on Eastern Han period stone sarcophagi unearthed from tombs in the southwest, present-day Sichuan province, and suggests an alternative interpretation. Juedixi or baixi performances were a component of the social activities associated with funeral rites which would have drawn large numbers of people who required feeding and entertaining as part of a social network of obligations. This interpretation regards the images less as portrayals of an imagined afterlife and rather as scenes associated with the activities surrounding the large social gatherings which would have assembled for funeral rites. They give us an insight into an aspect of early China's funerary practices rarely mentioned in text but visible in art.
Following a career at Sothebys, Hajni Elias enrolled as a PhD student at Cambridge. She completed her PhD last year and is now the holder of a prestigious Leverhulme Research Fellowship. Hajni teaches both here in Asian & Middle Eastern Studies and in the Department of History of Art.