Venue:
Room 8/9, Faculty of Asian and Middle Eastern Studies
Event date:
Monday, 27 January, 2020 -

17:00

to

19:00
Mediated Voices, Mediated Bodies: Print and the Making of Late-Tokugawa Kabuki
Nagai Kafū's Meiji novel Sumidagawa (1909) used kabuki and shamisen soundscapes to invoke the area to the east of the Sumida River as a space still stuck in times past, left behind in the drive for modernization—to capture, that is to say, the distinct texture of a past that was even then in the process of slipping away. This particular focus on sound had roots in literature and other woodblock-printed forms from the last half-century of the Tokugawa period (1800-1867), which were replete with invocations of music and sound. Indeed, sound was so present in these texts that one is almost tempted to read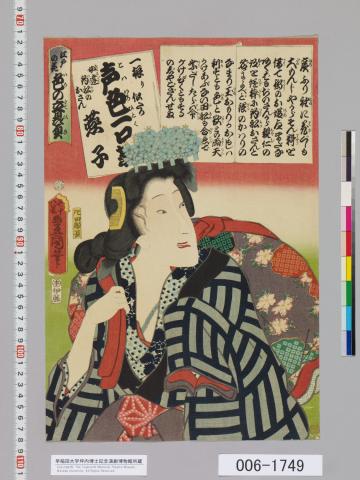 into them an anxious anticipation of the coming emergence of mechanical sound recording, which would gradually transform the urban soundscape. In this presentation, I will focus on the sound properties of nineteenth-century kabuki in an attempt to bring early modern print culture into conversation with modern technologies of sound recording and their reception. Printed materials such as ōmuseki (parrot stones) that helped people learn to imitate actors voices; musical texts; and various secondary, embodied practices mediated by printed matter including shirōto kyōgen (amateur performance); cheap, small-scale productions at temporary playhouses or on temple grounds (koshibai and miya shibai); and actor voice imitations at yose or rakugo playhouses, kept sound-based art forms alive even when fires, financial difficulties, and political unrest led to the termination of theater productions, or when theatergoing became less convenient after the kabuki theaters were relocated to Saruwaka-machi, on the outskirts of Edo. This presentation will illuminate the unique cultural meanings of these texts and practices as a node for understanding early modern kabuki, and for rethinking the relationship of early modern and modern media and technology. 
Satoko Shimazaki is associate professor of Japanese literature and theater at the University of California Los Angeles. Her research focuses on early modern Japanese theater and popular literature; the modern history of kabuki; gender representation on the kabuki stage; and the interaction of performance, print, and text. She is the author of Edo Kabuki in Transition: From the Worlds of the Samurai to the Vengeful Female Ghost (Columbia University Press, 2016), which was awarded the John Whitney Hall Book Prize and honorable mention for the Barnard Hewitt Award for Outstanding Research in Theater History. She also has a joint appointment as associate professor at Waseda University in Tokyo.