Venue:
Room 8/9, Faculty of Asian and Middle Eastern Studies
Event date:
Thursday, 10 October, 2019 -

17:15

to

18:30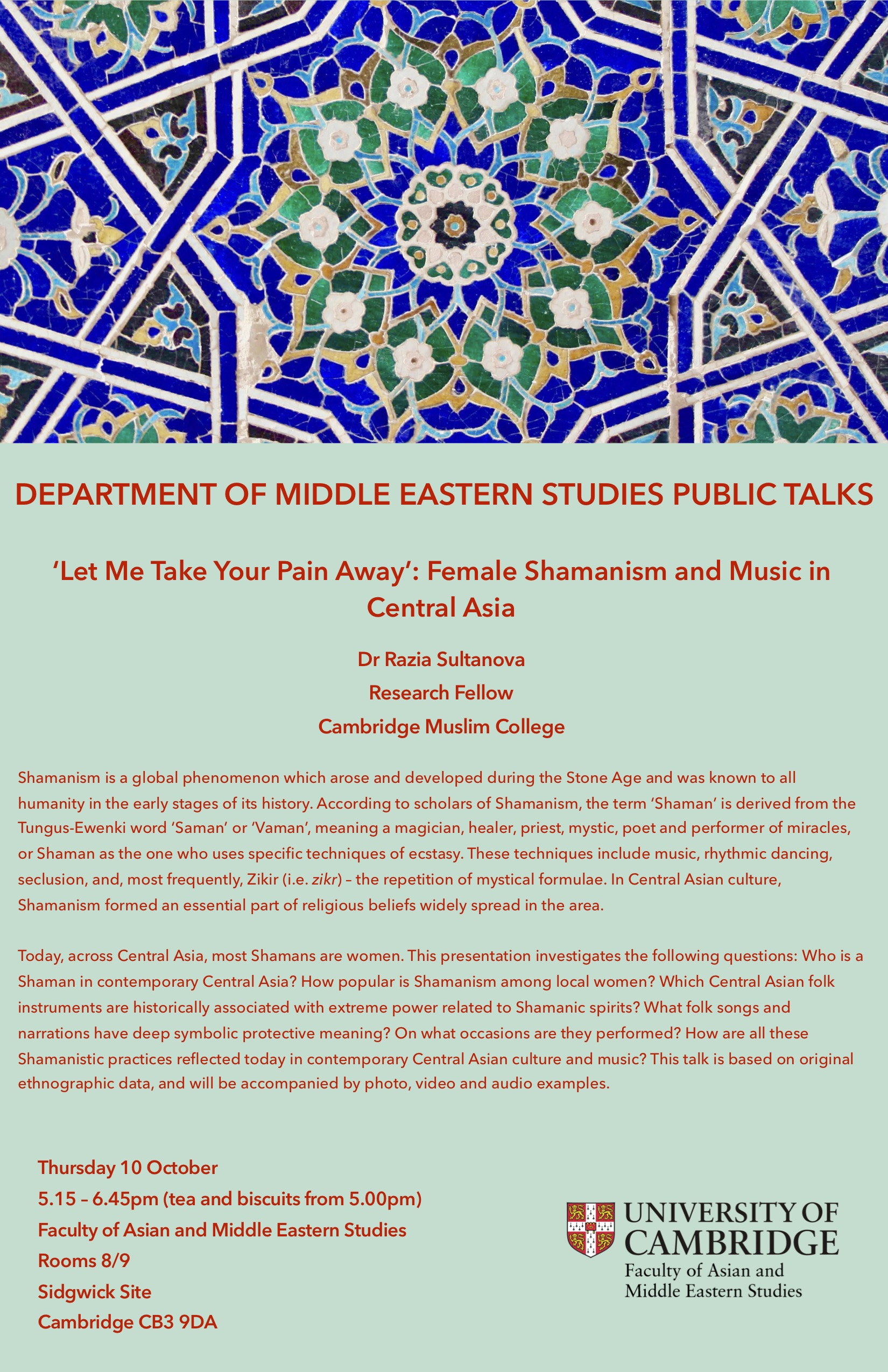 MES Public Talks Seminar given by Dr Razia Sultanova, Cambridge Muslim College
Shamanism is a global phenomenon which arose and developed during the Stone Age and was known to all humanity in the early stages of its history. According to scholars of Shamanism, the term 'Shaman' is derived from the Tungus-Ewenki word 'Saman' or 'Vaman', meaning a magician, healer, priest, mystic, poet and performer of miracles, or Shaman as the one who uses specific techniques of ecstasy. These techniques include music, rhythmic dancing, seclusion, and, most frequently, Zikir (i.e. zikr) – the repetition of mystical formulae. In Central Asian culture, Shamanism formed an essential part of religious beliefs widely spread in the area.
Today, across Central Asia, most Shamans are women. This presentation investigates the following questions: Who is a Shaman in contemporary Central Asia? How popular is Shamanism among local women? Which Central Asian folk instruments are historically associated with extreme power related to Shamanic spirits? What folk songs and narrations have deep symbolic protective meaning? On what occasions are they performed? How are all these Shamanistic practices reflected today in contemporary Central Asian culture and music? This talk is based on original ethnographic data, and will be accompanied by photo, video and audio examples.
Razia Sultanova studied and worked at both the Tashkent and Moscow State Conservatories. She worked at the Union of the Soviet Composers and the Russian Institute of Art Studies in Moscow, and having moved to reside in the UK in 1994 at the University of London, has since 2008 worked at the University of Cambridge. She is the author of four books and five edited volumes (in Russian, French and English) on Central Asian music, gender and religion, and music and society. Her next monograph entitled Popular culture in Afghanistan is forthcoming with Bloomsbury Publishing. She has been a Visiting Professor at the Kazakh National University of Arts (Nur-Sultan), at the Khoja Ahmet Yassawi Kazakh-Turkish University (Kazakhstan) and at Moscow State Conservatory (Russia). Dr Sultanova is the Chair of the ICTM Study Group on Music of the Turkic-speaking world.