Venue:
Rooms 8 & 9, Faculty of Asian & Middle Eastern Studies
Event date:
Thursday, 24 January, 2019 -

17:15

to

18:45
External speaker: Dr Vehbi Baysan, Assistant Professor, Faculty of History, Ibn Haldun Univeristy, Istanbul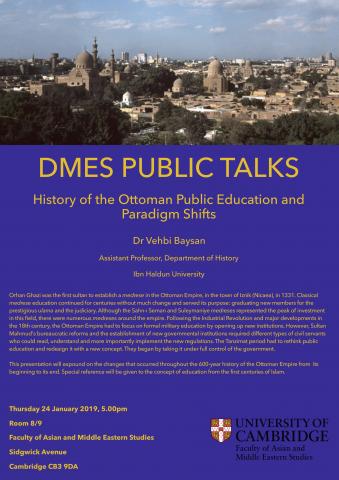 Presented as part of the Middle Eastern Studies Seminar Series
Free and open to all
[ poster ]
Orhan Ghazi was the first sultan to establish a medrese in the Ottoman Empire, in the town of Iznik (Nicaea), in 1331. Classical medrese education continued for centuries without much change and served its purpose: graduating new members for the prestigious ulama and the judiciary. Although the Sahn-ı Seman and Suleymaniye medreses represented the peak of investment in this field, there were numerous medreses around the empire. Following the Industrial Revolution and major developments in the 18th century, the Ottoman Empire had to focus on formal military education by opening up new institutions. However, Sultan Mahmud's bureaucratic reforms and the establishment of new governmental institutions required different types of civil servants who could read, understand and more importantly implement the new regulations. The Tanzimat period had to rethink public education and redesign it with a new concept. They began by taking it under full control of the government.
Asst. Prof. Dr. Vehbi Baysan travelled to Jordan's Yarmouk University after graduating from Istanbul University where he studied Arabic Language and literature. He completed his PhD studies at the Department of Middle Eastern Studies at Manchester University with a thesis titled: Ottoman State Education Policy During the Tanzimat Era – 1839-1876. While studying in the UK he gave lessons at universities including SOAS and LSE. Currently, he is a lecturer in the History Department at Ibn Haldun University in Istanbul.