Venue:
Old Library, Darwin College
Event date:
Tuesday, 3 December, 2019 -

17:00

to

18:30
We are delighted to announce that Ms. Enna Park, Republic of Korea Ambassador, will be giving a lecture in Cambridge on Tuesday 3rdDecember. The lecture, titled 'Peace process on the Korean Peninsula' will take place in the Old Library, Darwin College from 17:00. Following the talk there will be refreshments and a chance to chat from 18:00. This lecture is free to attend and open to all. We look forward to seeing lots of you there.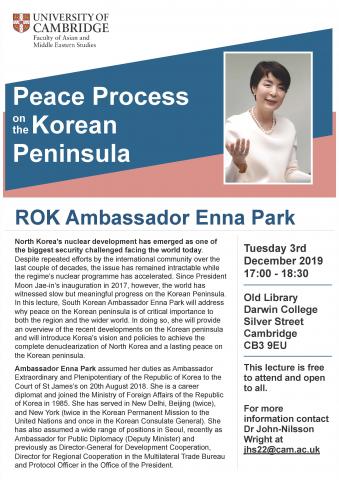 Peace Process on the Korean Peninsula
North Korea's nuclear development has emerged as one of the biggest security challenged facing the world today. Despite repeated efforts by the international community over the last couple of decades, the issue has remained intractable while the regime's nuclear programme has accelerated. Since President Moon Jae-in's inauguration in 2017, however, the world has witnessed slow but meaningful progress on the Korean Peninsula. In this lecture, South Korean Ambassador Enna Park will address why peace on the Korean peninsula is of critical importance to both the region and the wider world. In doing so, she will provide an overview of the recent developments on the Korean peninsula and will introduce Korea's vision and policies to achieve the complete denuclearization of North Korea and a lasting peace on the Korean peninsula. 
Ambassador Enna Park assumed her duties as Ambassador Extraordinary and Plenipotentiary of the Republic of Korea to the Court of St James's on 20th August 2018. She is a career diplomat and joined the Ministry of Foreign Affairs of the Republic of Korea in 1985. She has served in New Delhi, Beijing (twice), and New York (twice in the Korean Permanent Mission to the United Nations and once in the Korean Consulate General). She has also assumed a wide range of positions in Seoul, recently as Ambassador for Public Diplomacy (Deputy Minister) and previously as Director-General for Development Cooperation, Director for Regional Cooperation in the Multilateral Trade Bureau and Protocol Officer in the Office of the President.