Tessa Rizzoli
CRAZY Inc.
Summer 2018
---
I have had the unique opportunity to intern at CRAZY Inc. company based in Tokyo this summer. I have lived the most enriching two months of my life by far, days full of discoveries and experiences that words can hardly express.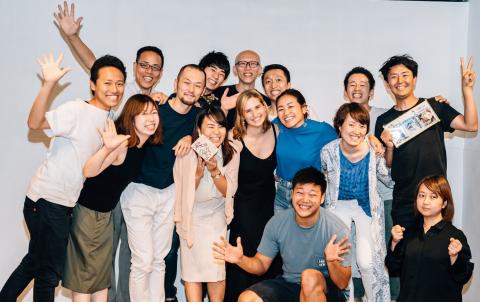 I spent the first weeks of my internship carrying out research about global awards and different strategies employed by wedding companies around the world for their webpages. Though I used different languages to research, I always had to translate everything into Japanese. Throughout my internship, I was really happy to be able to discuss with a supervisor the work I was doing and whether I was happy with it. The instant I conveyed that I would have preferred not to do something that I could easily do from my room back in college, I was provided with a new plan, crafted on my wishes. As I result, I could engage with more manual work: I worked in the company's kitchen, that allowed me to learn about Japanese healthy food and its preparation, as well as in CRAZY's art team, preparing the decorations and objects for the weddings. I sometimes attended seminars where I was asked to share my opinion; I got to attend CRAZY special weddings almost weekly and worked as a member of staff there; I helped to set up tables for different events, welcomed the people at the reception and in turn got to listen to a wealth of different interesting talks; I was even able to participate in a trip to Nebamura, a countryside village, and collaborated with a project that aimed at renovating centenary old houses; on that trip I got to know the CRAZY people better and after the hard work under the sunshine, we went to the waterfalls and even to Japanese hot springs together.
As a student of Japanese, I was really happy with how much working at CRAZY allowed me to practice the language. From being in the office where people answered phone calls in high formal Japanese, to being told about different cutting methods in the kitchen, I learnt more Japanese than in two years of textbook exercise. One of the best moments to practice Japanese was during lunch time, when we ate all together, both on normal days when we often engaged with cultural talks, but also when there were some guests and we all had to introduce ourselves and talk about our experiences within the company over and over again. Another brilliant moment for practice was after lunch when we had some discussion/share time.
I learnt how to give presentations in Japanese; talk in front of a big audience; deal with the customers at a wedding and understand what it takes to prepare a wedding from scratch. Attending weddings, besides listening practice, was great cultural experience and it also allowed me to move to different parts of Tokyo and even outside.
Even though I was the first intern from abroad that CRAZY ever welcomed, I had a really valuable experience, met wonderful people I know I will keep in touch with also during my year abroad and I could explore Japanese culture deeper, from different perspectives and every single day. During my internship, I also had the privilege to stay with the best host family I could have ever wished for, that made it all even more brilliant! 
If you would like to intern at CRAZY, you should be prepared for a warm environment, lots of hand shaking, the possibility to try out different tasks, a lot of Japanese talking and delicious lunch. A lot of times you will be struck by different opinions, and might ponder on why you are only allowed to stir the rice in a certain direction or you have to position things in a certain way on the wedding table because you are told that 'it is the Japanese way'. But when you go to Rome you just do as Romans do. If you go to CRAZY just do as CRAZY people do.
More than anything else, I loved the great sense of community of the CRAZY people, quite similar to the beautiful sense of community we have at Emma, my college back in Cambridge. I got so used to CRAZY life that I am afraid to go back to Europe even if just for six days, because I will realise that I have lived a dream.
I am so grateful for the brilliant chance I have had and would like to take the opportunity to thank Professor Adolphson for instituting this. I am also forever thankful to all of the CRAZY people that welcomed me and shaped this unforgettable experience that goes well above and beyond imagination.
Video the CRAZY people have made for me: https://www.youtube.com/watch?v=MfNxhn0aUR8
---
Norman Luk
Bebit
Summer 2018
I completed the internship with Bebit, a Customer-Experience and Data Analytics company in Tokyo in 2018. My internship lasted from the 10th of July to the beginning of August.
I had a fascinating time living and working in a central part of Tokyo. My work is mainly research-based, which meant that I spent the majority of the office hours reading into law and regulations. In my case, I was tasked to look into data protection regulations, such as the General Data Protection Regulations (GDPR) in the EU and China's Privacy Regulations, to prepare for the firm's future entry and consolidation in these growing markets. I also researched into Bebit's potential competitors in Asia and Europe, with the purpose to identify how a competitor's software has had more or less sophisticated features in comparison to Bebit's software. The findings would then be reported back to the friendly managing director twice or a week, where additional assignments would be given.
I am confident that through this internship, I have refined my research skills, looking into areas where I would never encounter in Cambridge. While my assignments mainly targeted my use of Chinese and English, I did have many opportunities to use spoken Japanese during the lunch hours. I strongly recommend any future intern from Cambridge to use the lunch hours with the full-time employees, to develop their fluency in the language. A side fact, I am aware that Bebit will be moving from Ichigaya (市ヶ谷)to an office building closer to Tokyo Station. This would only make it more convenient to commute.
---
Mary Stammers
Takahashi Seicha
Spring 2020
I applied for and took part in an internship for Takahashi Tea during March 2020, during the spring vacation of my year abroad. Spring holidays in Japan generally run from late January/early February to the start of April, making it a great time to do an internship during the break from university study.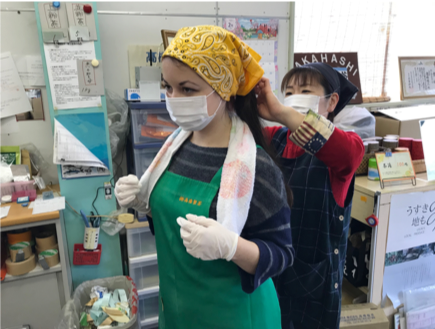 Takahashi Seicha is a small company, with about 10 employees, so it was a welcoming environment to work in. As an intern, I did a number of different activities during my time at the company- including translation, reports for the Facebook page, working on the farm and learning all about different types of tea and production methods in order to spread awareness of the business. In addition, I also got a chance to see how the company works in the community and in a business sense, attending community meetings and conferences.
The company itself is located near Usuki, in the countryside in Kyushu. During my internship, I did a homestay at the CEO's house, which is located right next to the office, factory and tea fields. The family were extremely kind and also took me for various experiences- including flower arranging, a rickshaw tour, to a safari park and to a sushi restaurant. Usuki is quite a small area with relatively few visitors from abroad, which means my arrival made more of a stir than I was anticipating- photos of me visiting appeared on the local Stone Buddhas attraction website, a sake brewery website, a local pottery company Instagram, in a newspaper and on Takahashi Tea's Facebook page.
Overall spending just over three weeks in a small community where everyone seems to know each other has been a very different experience from living in student dormitories in Tokyo- I certainly feel less anonymous! It was also a great chance to practice more Japanese- doing a homestay and working for a company means I've had a lot more exposure to the language than I usually get in the Hitotsubashi University international dorms. I've learnt a lot during my time here and had experiences I would not have been able to easily find elsewhere- I would definitely recommend taking part in one of the internship opportunities on the FAMES website.